Manufacturing & Engineering Recruiters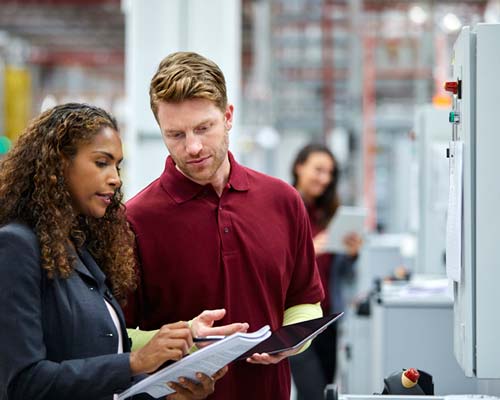 Our specialty is placing elite professionals, and one of the largest and most critical industries to the US economy we represent is the Manufacturing Industry. Our team works hard to meet our client's needs to find top-notch manufacturing professionals.
Today's manufacturing industry is far more comprehensive than garden-variety assembly line work. In a world of vertically integrated supply chains, technological advancements have paved the way to a world of fine-tuned factories with operations full of robotics, IT, engineering and more. As innovation continues to render traditional production roles obsolete, the industry continues to evolve.
Our team places titles ranging from plant managers to production supervisors to all plant engineering professionals in positions tasked with maximizing profits and streamlining operations. We're searching for leaders who inspire confidence and bring out the best from their employees and those who have excelled among their peers.
According to the National Association of Manufacturers, the industry has contributed to over $2.18 trillion to the U.S. economy in 2016, which is comprised of over 12 million jobs (or roughly 9% of our nation's workforce).
The manufacturing positions we fill are critical to economic growth in the United States. If you're seeking a career change, browse our "Current Openings" page to find the job that's right for you in your area.
Manufacturing & Engineering Titles We Fill:
Director of Engineering
Plant and Engineering Manager
Maintenance Manager/Supervisor
Production Manager/Supervisor
Paper Machine / Pulp Mill Manager
OPS Manager Process / Project Engineer
Plant / Manufacturing Engineer
Maintenance and OPS Engineer
Manufacturing Technology Engineer
Maintenance Planner
Production Engineer
Process Controls and Automation Engineer
Reliability Engineer / Manager
Electrical Engineer or E/I Supervisor
Electrical Tech / Maintenance Tech
Mechanical Engineer
Continuous Improvement Engineer / Manager
Safety Engineer / Manager
Plant Capital Project Manager
Quality Engineer / Manager
Power, Recovery, and Utilities Manager
Manufacturing & Engineering Industries We Serve:
Industrial Chemicals (Batch Chemicals)
Paint and Coatings
Polymers and Resins
Pulp and Paper – All Paper Products
Corrugated
Tissue and Towel Manufacturing
Packaging and Containers
Injection or Blow Molding
Food Packaging
Food Ingredients
Food and Beverage