Major Financial Commitment Made in Support of Pollinator Habitats
In the United States, one-third of all agricultural output depends on pollinators. Fruit and vegetable growers everywhere can attest to the significant role pollinators play in the production of many of our crops. Promoting pollinators' habitat on and near the farm benefits everyone who likes to eat!
General Mills, along with the Xerces Society and the USDA have announced a major partnership to restore and protect pollinator habitat across hundreds of thousands of acres of farmland in North America. The Xerces Society is an international nonprofit organization that protects wildlife through the conservation of invertebrates and their habitats. The partnership includes a biologist team who provide individual consulting on habitat restoration and pollinator-friendly farm management practices, evaluate habitat, and act as advisors to other conservation agency staff in the regions they serve.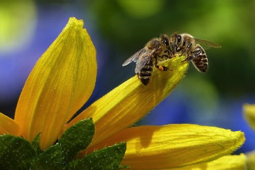 Together, these organizations have pledged four-million-dollars to support farmers with technical assistance in planting and protecting pollinator habitats, such as native wildflower field edges and flowering hedgerows. The partnership runs through 2021 with a goal of planting more than 100,000 acres of pollinator habitat.
This partnership comes along at the right time.
There is evidence that populations of native and managed pollinators are in decline, and the loss of benefits derived from them is being felt by the agricultural community. The reasons for this decline vary. Most experts feel urban sprawl is to blame. Others point to changes in agricultural practices where the use of broad-spectrum pesticides are disrupting or destroying long-established pollinator habitats. Still others feel the spread of invasive plant species are the culprits.
Farmers play a KEY role in expanding pollinator habitats
With two-thirds of the continental US privately owned, farmers and ranchers are can play a vital role in protecting and expanding pollinator habitats. This partnership supports them as they make relatively simple tweaks on working lands that benefit bees, butterflies, and other pollinators while improving the operation as a whole.
As a leading executive recruiter, Key Corporate Services has targeted relationships with many top companies in Hort, Ag & CPG. Contact us today to speak with one of our team members.