Key Corporate Services Managing Partner Dave Kerns and pharma team member Cody Griffin attend 2013 BIO International Convention
The Key Corporate Services pharmaceutical and biotech team is always on the go. In March, managing partner and team leader Dave Kerns and team member Stacy Cronkright attended DCAT Week '13 in New York City. And just last week Dave and team member Cody Griffin attended the 2013 BIO International Convention, which was held April 22-25 in Chicago, Illinois.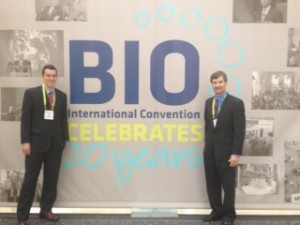 According to the website, the convention is the "global event for biotechnology." Attendees receive the following benefits:
Gain new perspectives from global thought leaders.
Get up to date on policies, regulation, marketing and innovations.
Learn better practices for business development, finance, manufacturing, and more.
Dave and Cody not only had the chance to meet and greet important people in the biotech world; they also got a booster shot of knowledge about the industry. They report that this year's convention was of particular importance, as the industry is changing even more rapidly than usual.
The recruiters of Key Corporate Services put a lot of hard work into being the best in their respective practice areas. If you would like to work with people who will give their all to helping you solve problems and pursue new opportunities, please contact us.
Matt
The Key Corporate Services Blog Team