The Latin Influence Leads to a Spicing up of the Traditional Breakfast Sandwich
Recognizing a trend, McDonalds finally acquiesced to the consumer desire that they making their popular Egg McMuffin sandwich available all day. Other restaurants are following suit by offering morning items during nontraditional hours.
These changes meet the increasing demand for breakfast items throughout the day and are backed up by the National Restaurant Association statistics highlighting the growing infatuation consumers have with breakfast items. Some 72% of adults want operators to offer them throughout the day.
"So, what is the growing appeal of the breakfast sandwich," you might ask?
It's driven by a couple of factors. Convenience is a key one.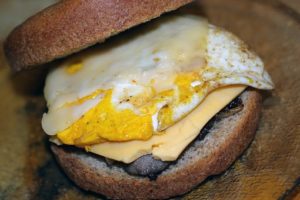 The breakfast sandwich is easy to grab and eat on-the-go. And, it includes a variety of ingredients. Then, there's the increasing influence of Latin culture. The Hispanic connection will represent almost 17.3% of the population of the US in 2017. Breakfast is a popular meal for this ethnic group. And, it's resulted in adding new spices to menus.
Spicier choices are showing up in breakfast items
Sriracha has been a favorite spicy flavor inclusion for Americans for years. But Latin influence has added additional kicks to the breakfast sandwich. Consider the increasing popularity of the chipotle and jalapeño flavor. And, we are seeing other exotic spices used like saffron and paprika to liven up traditional breakfast ingredients.
Both Latin and Middle East influences are changing the tastes of breakfast items
While the Latin-infused flavors are major, they are not the only ethnic influence on breakfast. There is also an increasing demand for Middle East spices. Curry blends and hot sauces are showing up more and more in dishes, with breakfast being the next frontier for these flavors. Spice giant McCormick's forecasts baharat – a Middle Eastern blend of cumin, cardamom, black pepper, nutmeg, coriander, and paprika – will be this year's all-purpose seasoning.
Breakfast is truly the most important meal of the day, and spices will increasingly have the center spotlight as they showcase creative ways to serve up breakfast foods!
If you work in the Food Ingredients Industry, we welcome the opportunity to partner with you in finding that next career position. Key Corporate Services fills a variety of positions for our clients from manufacturing and R&D to leadership and sales.