Trends in the Chemicals Industry for 2017
The New Tax Plan
Like other industries, Chemical manufacturers design their supply chain to maximize tax advantages afforded by lower tax jurisdictions overseas. Now, with the Republicans controlling both houses and the White House, a new plan is being floated around Capitol Hill that would tax domestic revenue at a rate of 20 percent. Lowering the corporate tax rate to 20% from 35% could be a boon for the chemicals industry in the states. This could result in an increase in the creation of new facilities and jobs.
The Auto Industry's "Halo-affect" on Chemical Manufacturing
It's no secret that the auto industry is one of the sectors the chemicals industry is most reliant on. From carbon fiber, to plastics, batteries and other high value materials, chemicals play a large role in auto production. The Trump administration could put pressure on auto manufacturers to bring production back onto home soil. We have seen some examples of that occurring already. The more active auto companies are in America, the higher demand will be for chemicals as well.
Climbing Oil prices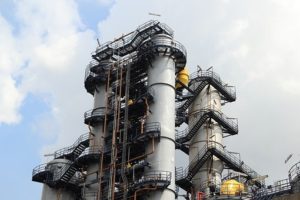 Chemical manufacturers watch energy prices closely. OPEC agreed to cut production recently. The resulting rise in the cost of a barrel of oil is good news for chemical manufacturers in the U.S. Chemical producers in the EU use oil to a much greater extent as feedstock than their counterparts in America, where natural gas is typically used. The rising energy costs will give chemical manufacturers in the states a competitive advantage on the world market.
While the future of chemical manufacturing in America looks bright, a benefit for North America may have a negative impact in other markets around the world, where higher prices, tariffs or transportation costs could affect overall commerce on the global level. Time will tell. U.S. Chemical manufacturers can only take advantage of the changes brought by a new administration and look to the future.