Dream relocation destination #1: New York, New York
In a related post series, we observed that wanting to move to a new location is a common motivation for wanting a new job. In this series, we're going to take a closer look at cities that inspire the desire to relocate!
Perhaps we can all agree that the most obvious city to put in this series is New York. It's known as the Big Apple and is called by the New York City government itself "the capital of the world."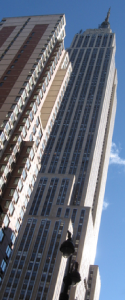 The reasons why people love New York are too numerous to list completely, but here are a few:
New York is a dream magnet. People go there to start their business careers, advance their business careers, become entertainers, find love, enjoy the culture, and soak up the energy. New York is the finance capital of the US and is a top city for news, entertainment, and media in general.
Key Corporate Services places mid- and high-level executives in New York City. One reason is that we have such a strong finance and accounting practice area.
If you are interested in relocating to New York, please take a look at our current finance and accounting openings. As you can see, we have quite a few positions in the city.
But don't stop there. We also have many positions in New York City in our other practice areas. If you don't see what you're looking for, please contact us. We are constantly getting in new positions. We will keep you in our database and notify you when a NYC job comes in that could be right for you!
Matt
The Key Corporate Services Blog Team