Key Corporate Services specialists attend shows to stay abreast of plastics additives industry needs
At Key Corporate Services, one of the divisions we recruit for is Industrial Chemical. Within that group, Dana Wright is a specialist recruiting for the plastics additives industry. She recently attended the NPE show.  It's the largest plastics exposition in the Western Hemisphere and is attended by more than 2000 exhibitors and 60,000 attendees.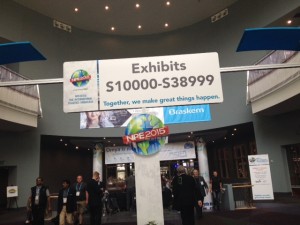 The plastic additives market is projected to grow 5.0% during the next five years to reach $45.5 billion by 2019. The growth will be driven by the increasing disposable income and rapid urbanization. The packaging and automotive segments are projected to have the highest growth rate in plastic additives market by application during the next five years.
While at the show, Dana met with corporate representatives as well as candidates looking for opportunities in the industry.
"There's a strong need for chemical engineers," said Wright.  And, she mentioned, employers are looking for candidates that can fill business development roles. These development manager positions generally require prior experience. "I have one client currently looking for someone with 10 years business development experience" stated Wright. That position happens to be in the automotive industry.
Key Corporate Services' specialists like Dana Wright attend industry shows throughout the year to develop and cultivate winning relationships with employers and candidates. That way, they maintain current knowledge of the trends and needs of the industries in which they recruit.
If you're an employer or candidate for an industry we specialize in, give us a call and let us show how we can partner with you.
From The Key Corporate Services Blog Team