Reasons to look for a new job #4: You don't like your current location
Previous posts in series: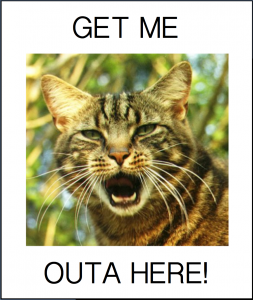 In the last two posts of this series, we took a look at how wanting to be in a new or old location can motivate a person to look for a new job. But disliking one's current location–without necessarily having a new location in mind–can also be a motivator.
This often happens to young people who haven't had the opportunity to live in another place yet. They may dislike living in their hometown but do not yet have a dream location or "power place," as the inspirational speaker Silouan calls the location we find that really energizes us. One typical route for leaving the homestead has been college, but many students go to school near home. Thus, the first job is often the opportunity that finally sends them on their great adventure.
Seasoned veterans of the working world, however, can also find themselves dissatisfied with their current location without yet having a vision for where they want to be. Sometimes this dissatisfaction can creep up on people gradually, without their even being consciously aware of it. Reasons include the following:
Dissatisfaction with your current house and/or neighborhood.
Dissatisfaction with the local housing market.
Dissatisfaction with the local school system.
Fearing or experiencing crime.
Lack of good jobs in area.
Lack of fun events and recreational opportunities.
Undesirable climate.
Inabilities to pursue one's interests and hobbies.
Blight, malaise, depressing landscapes–the vibe is just wrong
That fish out of water feeling–you can't find people like yourself
Sometimes your job is just fine, but you really can't stand where you live any more. Is that reason enough to look for a new job? Absolutely! Every person deserves happiness, so if you're unhappy, it's entirely reasonable to make changes.
Key Corporate Services helps talented professionals find their dream jobs across the United States, as well as around the world. Why not take a look at our open positions to see if any of the locations have meaning for you? If you don't see your dream job or location, please contact us. We will keep you in our database and contact you with the perfect opportunity comes in!
Matt
The Key Corporate Services Blog Team