Attending Trade Shows keeps Key Corporate Services abreast of latest trends
As one of the leading executive recruiting firms in the nation, Key Corporate Services recruiting specialists routinely attend leading trade shows in their area of specialty. Don Thomas, Director of recruitment in our Industrial Chemical division, recently attended the NYSCC trade show.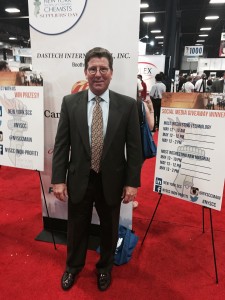 The New York Society of Cosmetic Chemists is one of the largest trade shows of its kind in the world. There's over 700 booths representing some 400 companies at the show. "Some of our major corporate clients were there" said Thomas.  "It was an opportunity to meet with them and also to sign up new clients."  By meeting face-to-face with companies in the industry, Thomas is able to identify recruiting needs and match those needs to current or future candidates at Key Corporate Services.
The one trend Thomas mentioned he observed at the show pertained to the increased focus by the companies to roll out "green product" lines. "There is a commitment by companies to manufacture in a way that will leave a low environmental impact footprint."  Thomas said the trend is already popular in Europe.  In the United States, California is leading this movement.
As more and more companies move toward "green" manufacturing techniques, there will be more opportunities in sales and business development focused around this trend.
At Key Corporate Services, we follow industry trends closely to meet our client's needs for hiring top talent in the market place.
Give one of our recruiting specialists a call, and let us go to work for you.
From The Key Corporate Services Blog Team