How important are qualifications in the interview process?
Anyone who's done a few interviews can relate to this; you leave the interview feeling you ACED it, only to find out later the company offered the position to someone else.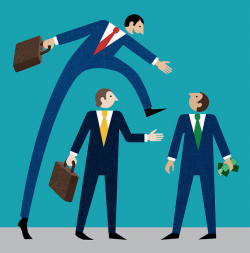 You're thinking "Why did they hire him???  I'm far more qualified than he is!"
The answer lies in a basic understanding of the three distinct phases of the interview and their corresponding focus.  If you don't ACE all three phases, you likely will not get the job.
Phase 1 – Qualifications
The opening phase of most interviews focus on this area. Questions here will deal with your education, work experience and hard skills.
But, you say, you DID a good job here convincing the interviewer your WERE completely qualified.  So, why didn't you get the job?
Because that was only phase 1.
Phase 2- Passion
The manager wants an employee who wants to work for their company, so you can expect a change in the type of questions you'll be asked.  You'll hear things like "Why did you get into this line of work?", "Why do you want to work for our company?", "What do you like most about your job?"and so on.
So, you say, you DID express why you love the job.  What else?
Phase 3- Cultural Fit
You can be extremely qualified and passionate about the job, but if the hiring manager doesn't think you're a "good fit" for the company's culture, that's a real problem. He needs to be able to picture himself having coffee with you on Monday morning.
In short, qualifications will get you the interview, but it's really the rapport you establish during the interview that will win you the job.
At Key Corporate Services, our experts match qualifications to the job and share information about a company's culture with a candidate before the interview.
If you work in any of the industries we represent, give us a call.
From The Key Corporate Services Blog Team