How to Land Your Dream Job
Your dream job doesn't have to be just a dream.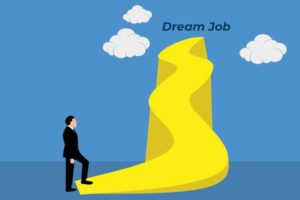 Qualifications, experience, education, and tenacity all matter. But the intangibles are what help you to set yourself apart and nab that golden opportunity. If the basics are in order, focusing on these aspects will help make a dream a reality:
Differentiate

– Every sought-after role has several suitors. The key is finding a way to make yourself unique compared to other candidates. These differentiating factors are necessary to guarantee you stand out from the applicant crowd. You want to prove that you will be an invaluable asset to the company, and offer skills no other candidates can provide.

Be True

– Hiring managers can usually smell phoniness right away. The "right" answers, framed behind a wall of professionalism may result in an initial connectivity with an interviewer, but the sheen wears off when the layers are exposed. It's critical you present your authentic self when interviewing for a dream job. Companies want real, genuine people who can mesh with the existing culture and structure of the organization, and get the job done.

Clarify Value

– Remember, the company you're interviewing for is looking for a way to add value to their personnel – which will, in turn, deliver results for their clients. When interviewing for a role, it's imperative you clearly explain how your addition to the team will add value internally and externally. The business is trying to improve – not just check a box and fill an empty seat. Communicating the type of impact you can have will go a long way toward securing your dream job.
Are you struggling to put together the pieces to find your dream job? Key Corporate Services can help. We're leaders in management recruiting and search, as well as experts at placing executives and managers into high level positions in the following industries: industrial chemicals, pharma & biotech recruitment, food ingredients jobs and executive search, finance and accounting recruiting, and manufacturing and engineering.
Contact us today to find your dream job.