Reason to become an executive recruiter #10: Being a "people person" is rewarded
Previous posts in series:
Key Corporate Services is growing and searching for new talent! If this post sparks your interest, please read this job description and contact us.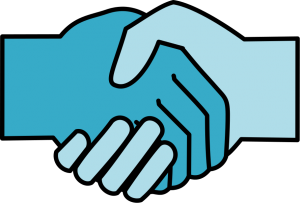 Here is a list of things that we typically do in our day as executive recruiters. What do they all have in common?
Talking to hiring managers and seeing what kind of talent they need.
Discussing with hiring managers the particulars of a position and helping them develop metrics to assess progress.
Checking in with hiring managers to confirm their satisfaction with candidates we've introduced.
Talking to candidates or potential candidates to see what kinds of jobs and careers they're interested in.
Checking in with candidates (whether we've found them their job or not) to see how they are doing and get their take on their industry.
Keeping clients and candidates apprised about search progress.
All of the above fall under "building relationships"–the most important thing we do.
Looking at resumes, seeing who might be ideal for a job order.
Conducting job interviews (particularly behavioral job interviews) and preparing the questions for these interviews.
The answer was probably obvious to you: All of these tasks involve people!
Do you like talking to people? Do you like helping people? Do you find yourself interested in people's histories? Their skills? Their dreams? If so, you are probably a "people person" and have natural abilities and behaviors that could help you be a good fit for our industry. If you are a people-person, this world is your playground! You get to interact with people all day long, day in, day out.
The flip side is that, if you don't like working with people, you probably would not enjoy working in our industry or be successful.
One thing to note is this: being an introvert is not the same thing as not being a people person. Many of the world's great businesspeople, entertainers, and others who "put it out there" are introverts. And many great recruiters are introverts as well, so don't disqualify yourself unnecessarily!
Are you tired of jobs where you stare at a computer screen and never talk to anyone? Eager to use your people skills for enjoyment and profit? Then becoming an executive recruiter may be an exciting and rewarding life change for you!
Matt
The Key Corporate Services Blog Team
Handy guide to our blog post series