The Job Search Elevator Pitch
Your Career Strengths "Elevator Pitch"
Who are you? What do you do?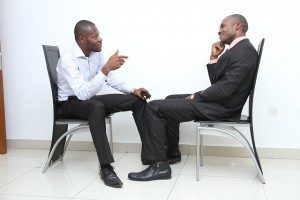 When you're actively seeking a new position or career, the ability to succinctly answer these two questions is paramount to making a lasting impression. You must be able to boil down your background and skillset into a 30-second elevator pitch. The goal is to spark interest with the person to whom you are speaking and compel them to ask additional questions and learn more about you.
In any interview situation, you need to provide specifics that display how your background and skillset are different from others in your field. Simply saying you are actively seeking a position in an industry isn't memorable. You need to make your elevator pitch stick. Experts like the recruiters at Key Corporate Services promote following the rule of 4 Ps.
Practice

– Every elevator pitch needs to be worked on until it flows naturally. After you've crafted your pitch, practice it until it is second nature.

Portable Skills – Find a way to include information about your skillset. You want an interviewer to immediately begin thinking about how someone with your background can help their company solve problems.
Previous Experience

– What experiences have led you to this point? As you're crafting your elevator pitch, massage the language so you briefly highlight some of your impressive prior experiences.

Passion

– In some ways the most important P, showing a recruiter or interviewer how much you care about an opportunity or industry can leave the most concrete impression. When people are passionate about something, they naturally light up until their interest becomes contagious. Identifying a way to communicate that passion in an elevator pitch is crucial.
When was the last time you worked on your elevator pitch? To learn more about how to finely tune your elevator pitch, contact Key Corporate Services.
Need Assistance Advancing Your Career?
If you are looking for a job or career advancement, Key Corporate Services can help. We employ expert executive recruiters with years of experience in the following industries: Industrial Chemicals, Pharmaceutical and Biotech, Food Ingredients, Accounting and Finance, Engineering and Manufacturing.