Why You Should Partner with an Executive Search Firm for Recruiting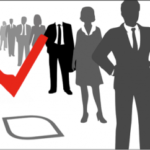 The candidates are out there. The problem is finding them. An Executive Search Firm like Key Corporate Services provides advantages not found through a traditional HR-based hiring process. These include:
Experience – Decades of relationship-building have positioned Key Corporate Services to be a primary source of quality applicants. Rather than waste your time pouring through resumes, checking boxes and hoping what appears on paper translates into a good fit with your organization, Key Corporate Services does the work for you. They also have access to applicants who may not be on your radar – those currently in positions who may be interested in pursuing new opportunities. The result is you're connected with top-tier applicants who are going to be best aligned with your expectations.
Credibility – The success of our business is predicated on our clients hiring the best candidates available. To do so, we've established a reputation for pragmatically assessing potential candidates and only promoting forward those we feel best align with company needs. Your pool of candidates should all meet very specific criteria, so that when you do make your hiring decision you feel confident it's the right person for the job. Our success in matching candidates to opportunities is what maximizes our industry credibility.
Efficiency – The longer a key role in your organization remains open, the more revenue is lost. At Key Corporate Services, we take pride in quickly and cost-effectively identifying candidates for positions. Your company realizes a time savings through the process and more effectively finds the candidate to meet business needs. In industries like Manufacturing, Pharmaceuticals, Industrial Chemicals, Biotech, and Finance, the faster you can fill a position, the more efficiently your organization proceeds.
Is your organization struggling to find the right candidates for key positions in your company? Contact Key Corporate Services today to find out more about why hiring an executive search firm can make a difference.