How to Win the Hiring War, Not Just the Battle In Talent Recruitment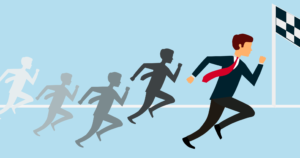 Talent recruitment requires long-term strategy. Winning individual hiring battles may offer immediate success and satisfaction as you fill open positions, but an incorrect placement due to lack of established processes can ultimately set your organization back even further than expected.
To ensure you attract only the right candidates – the ones who will not only fill a position but improve the quality of your company in the eyes of clients – you need to work with a placement company that has established executive search and recruiting and processes and solid connections. Implementing a system of recruitment helps avoid the effects of bad hiring practices.
When choosing an executive recruitment firm to work with in filling open roles, consider the following:
Can they sell the why?

– Why should applicants consider working for your company? You need a partner that can sell prospective employees on not just the hard numbers, but also on growth, culture, and opportunity.

Can they impress the unique?

– A job description is simply words on a screen. But, what makes the role truly exceptional and one that would lure the most enticing candidates? The executive search firm you work with must be able to deliver a comprehensive understanding of what makes your particular opportunity so impressive. Differentiation matters.

Do they value relationships?

– Filling a role is just the start. Your partner needs to be able to show candidates they're not just in it for the commission. Applicants want to build binding relationships and accept ownership in the role, while limiting the possibilities of wanderlust if there are shifts in the position or within an organization.
Key Corporate Services understands how important it is to win not just the hiring battle, but the ongoing war. Are you looking for a strategic battlefield commander to guide you through the hiring process? Contact us today.
Since 2000, Key Corporate Services specializes in executive search and placement for the finance and accounting, pharmaceuticals and biotech, manufacturing/engineering, industrial chemicals, and food ingredients industries.