Why Attending a Pharma Bio Conference Can Help Your Career
Here are just a few job search tips and reasons why attending an industry conference can benefit your new career or careers change.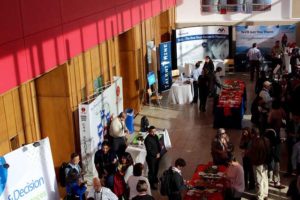 You lead a busy life and have a busy schedule. Attending a pharmaceuticals or biotech industry conference requires time and resources, which are often in short supply. But carving out the few days and committing the funds can make a huge difference when you're looking to grow professionally. Here are just a few reasons why attending a pharmaceuticals or biotech industry conference can benefit your career:
Networking – First and foremost, conferences offer you opportunities to increase your network and meet cohorts in your field. No better tactic exists for uncovering potential roles than networking with peers and colleagues. Every meal, every session, and even the moments in between events provide a chance to meet the person who may have the key to the job that will advance your career.
Reputation – Attending conferences allows you to find ways to position yourself as an expert in the industry. Speaking opportunities offer built-in cache that you have unique insight and knowledge that could benefit an organization. The more people are able to connect you with a specific expertise, the greater your standing and reputation. Opportunities often follow.

Education – One of the main reasons people choose to attend a conference is to expand their education and learn more about industry topics. By attending sessions and speaking events in your areas of expertise, you meet other like-minded individuals who travel in the same career circles as you. They may have insight into where your field is trending and how you can leverage your job standing going forward.
These reasons don't just apply to the Pharmaceutical & Biotech industry. You should attend conferences within your specific industry. If you need help, Key Corporate Services also specializes in the Finance & Accounting, Food Ingredients, Industrial Chemicals, and Manufacturing & Engineering industries. We're happy to help you find the best conference to put you in front of your next opportunity.